Three Rose Accessories For Spring
March is one of my favorite times of the year, partially because it's my birthday month, but mostly because it is finally getting warmer and all of the flowers are blooming. This transition period from winter to spring means I change up the colors that I wear from bold reds and lots of black to brighter hues and more subtle neutrals. I've never been one who loves pink but the rosy trend really caught my eye because it was more subtle than a traditional bubble-gum pink and is a more grownup version of the hue. I've found that while I don't tend to wear a lot of pink clothing, I start to drift towards rose pink accessories. I'm currently obsessed with these dusty pink All Birds, this beautiful matte rose lipstick by Burts Bee's (Lily Lake), and this Rose Gold Wooden Watch by JORD and have worn the three of them basically daily since I've gotten them. They're a great way to transition into spring and add a feminine touch to any outfit.
These shoes claim that they are the "worlds most comfortable shoe," and they live up to that statement. They're so comfortable and I spend a lot of time on my feet and running around but at the end of the day, my feet are still happy when I wear these. The dusty rose acts as a neutral and pulls together any outfit with a casual "cool-girl" vibe.
This is the perfect rosy pink lipstick for every-day wear. It works for a casual athleisure wear vibe and transitions perfectly to go with a dress and heels for date night. The intense color doesn't fade and it's the best combination of moisture and matte. The best part is that it is natural and made with moisturizing ingredients like moringa and raspberry seed oils to help soften and condition your lips all day long so you don't have to reapply as often.
Classic meets modern with this beautiful wooden watch with a rose gold face. This watch is perfect for the girl on the go and although I've always worn silver, this beautiful rose gold is a perfect change of pace and makes a gorgeous addition to every outfit. Since I'm always running around town for work, having a watch ensures that I'm on time, which is so important for my job. Since getting this watch, I can't stop admiring it and I haven't been late since! Each JORD watch is handcrafted and the packaging is to die for and the best part is that JORD also offers to engrave your watch for that extra personal touch. I've partnered with JORD to give readers and followers a chance to win a $100 JORD gift card and all entries will receive 10% off their purchase! Enter this awesome giveaway here! Good Luck!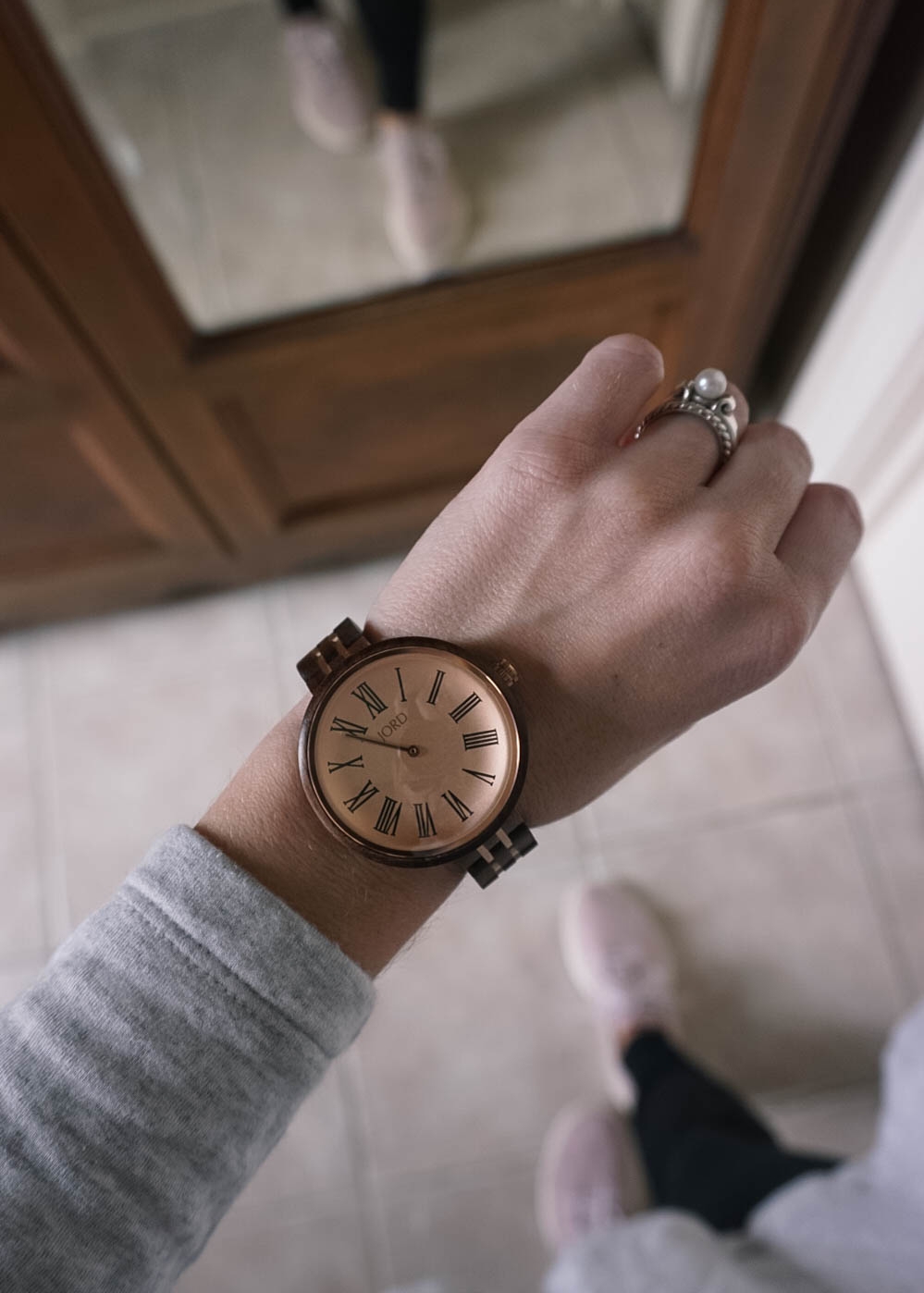 Thank you to JORD for sponsoring this post!